Klimt Ring | Gold Vermeil & Moonstone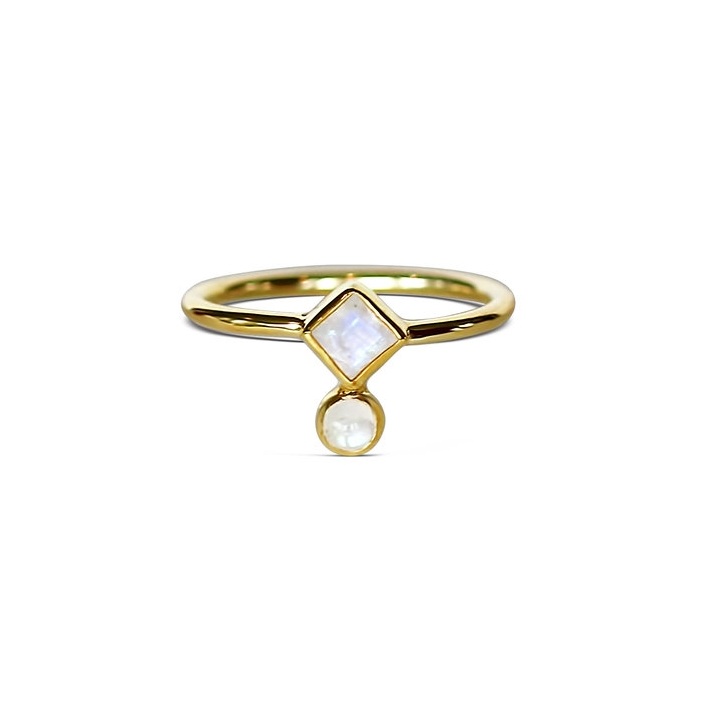 Klimt Ring | Gold Vermeil & Moonstone
The shapes depicted in Gustav Klimt's famous painting, "The Kiss", inspire this piece. A man cloaked in squares and a woman wearing a dress with circles stand in an embrace. No matter one's gender, we all have feminine (yin) and masculine (yang) energy in each of us.
Yin energy is associated with stillness, nighttime, intuition, creativity, feelings, and senses. This is represented in the circle-cut moonstone in this ring.
Yang energy is assertive, goal-oriented, and dominant. This energy is associated with daytime, activity, vision, and power. This is represented in the square-cut moonstone in this ring.
This ring is to remind the wearer that it's important to have both, but we must keep the balance.
Gold vermeil double rainbow moonstone ring.
Rainbow moonstone calls to the divine and intuitive feminine power rooted within each of us, and is often worn for fertility. Moonstone energy is deeply connected to the movement of the moon as it makes its way through the Zodiac, symbolizing protection for astral and earthly travellers. It helps recalibrate the energetic vibrations of the body, which creates emotional balance and lasting connections to one's spiritual self. This brings forth an influx of inspiration, passion and healing.
Gold vermeil is an overlay of gold over a base of sterling silver and requires special care. To extend the life of your gold vermeil jewelry, remove when washing hands, showering, applying lotions or perfumes, using harsh cleansers, or working out. Always store your jewelry in a dry place, preferably in individual air-tight bags. Do not use chemical jewelry cleansers or polishing cloths on gold vermeil jewelry.
Gold vermeil jewelry will inevitably fade to a warm silver or a light 10K gold colour. This is the nature of plated jewelry. The rate of wear depends on care, climate and individual body chemistry, and may vary greatly on a case by case basis. As rings are worn on the hand, and are exposed to more frequent rubbing, they will often age more quickly than necklaces or earrings. We do not offer re-plating of our gold vermeil designs and all sales of gold vermeil jewelry are final.
sold out